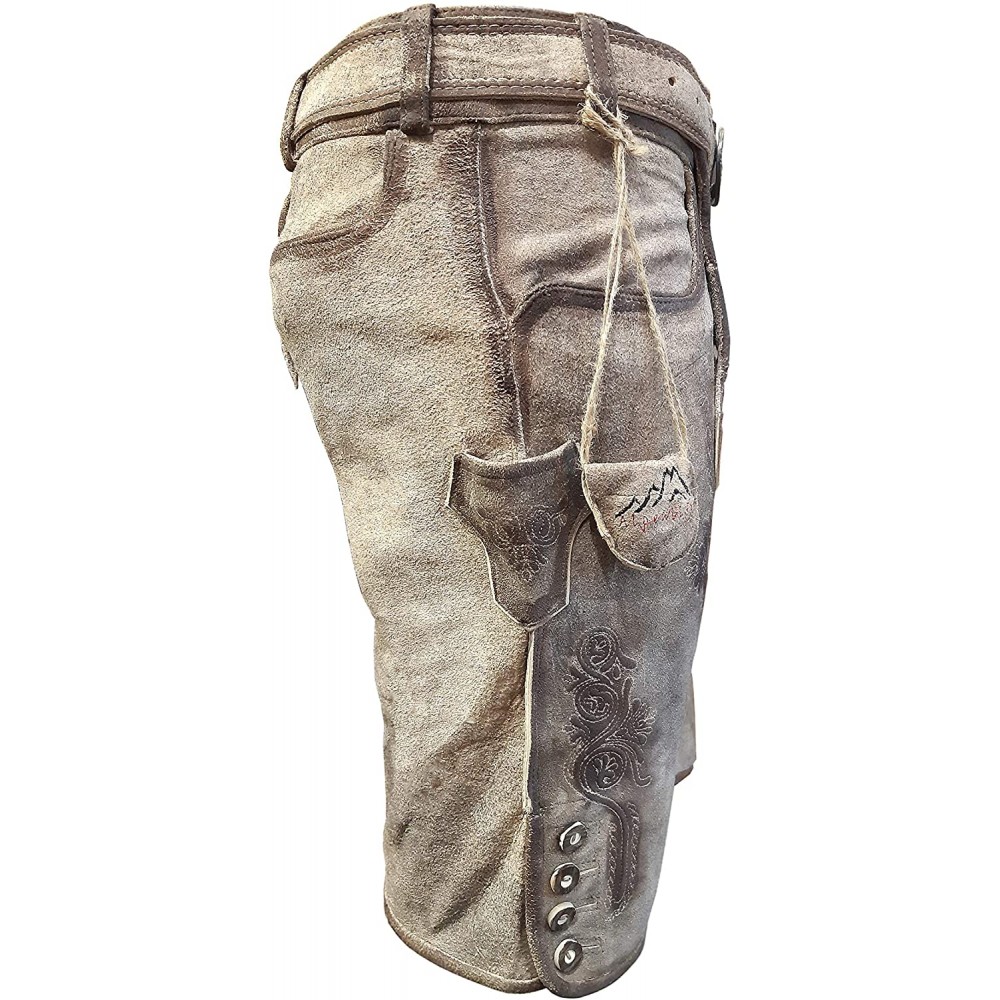 Sichere Zahlung
Sichere Zahlung mit SSL Encryption
Schnelle Lieferung
Lieferchite 3 - 5 Tage (DE - AT)
Rücknahmen
30 Tage rücknahmen
Kurze Herren Lederhose mit beidseitigen Messertaschen und Leder Gürtel, Braun, Büffel Leder, Empire
This product qualifies for free shipping
KOSTENLOSER VERSAND (DE - AT)
Kostenlose Retouren
Sie haben 30 Tage Rückgaberecht
Kostenlose Umtausch
Sie haben 30 Tage Umtausch
Bestseller
Assign specific blocks to specific products. The most comprehensive product selection rules in Opencart.
Lager:

Auf Lager.

Model:

Empire

Gewicht:

1.00kg

Alpenlife
Die perfekte Herren Lederhose aus 100% Büffel Leder

NEUHEIT - Lederhose mit beidseitigen Messertaschen

Verschluss: Knopfleiste

100% Büffel Leder

Modellnummer: Empire

Durch den aufwendigen Bearbeitungsprozess und echte Handarbeit wird die Büffel Lederhose gewollt auf urig und alt getrimmt.

Lederhose inklusive Leder Trachtengürtel mit Metallschnalle

Traditionelle 3D Stickereien


Produktbeschreibungen
Optisch antike Lederhose für den perfekten Auftritt auf der Wiesn. Das hellbraune, speckige Leder verleiht der Lederhose mit Gürtel braunantik den Charme eines antiken Kleidungsstücks. Die kurze Trachtenhose endet über den Knien und ist hier mit jeweils vier rustikalen Trachtenknöpfen ausgestattet. Diese befinden sich auch am reich verzierten Latz sowie am Bund. Kunstvolle Stickereien am Latz, an den Oberschenkeln und auf der seitlichen Messertasche unterstreichen den traditionellen Stil und ziehen die Blicke auf sich. Die Einschubtaschen auf der Vorderseite eignen sich zum Verstauen des Schlüssels oder anderer persönlicher Gegenstände, während die Gesäßtasche Platz für den Geldbeutel bietet. Die Lederhose ist somit nicht nur ein wahrer Hingucker, sie ist auch praktisch. Die Hose ist Ihr perfekter Begleiter für die Wiesn, für Hochzeiten und natürlich auch für den Alltag. Mittels dem Lederbändchen am Hosenbund, können Sie die Hose individuell auf Ihre Größe abstimmen.
Produkteigenschaften:
Model: Empire
Farben: Hellbraun
Material: 100% Büffel leder
Taschen: 2 Taschen vorne - 2 Messertasche an der Seite (1 links + 1 rechts) - 1 knöpfbare Gesäßtasche
Trachtengürtel aus Leder mit Metall Gürtelschnalle ist enthalten
Mit Ersatzbeutel (Knopf und Lederband)
Größentabelle:
Gr. 44: Bundweite: 82-85 cm - Länge : 54 cm
Gr. 46: Bundweite: 85-87 cm - Länge : 54 cm
Gr. 48: Bundweite: 88-90 cm - Länge : 54 cm
Gr. 50: Bundweite: 92-96 cm - Länge : 54 cm
Gr. 52: Bundweite: 96-98 cm - Länge : 54 cm
Gr. 54: Bundweite: 100-102 cm - Länge : 54 cm
Gr. 56: Bundweite: 104-106 cm - Länge : 54 cm
Gr. 58: Bundweite: 108-110 cm - Länge : 54 cm
Gr. 60: Bundweite: 112-114 cm - Länge : 54 cm
Gr. 62: Bundweite: 116-118 cm - Länge : 54 cm